Acest site nu mai este actualizat. Pentru a deschide site-ul nou urmăriți linkul de mai jos.
This site is no longer updated. To open the new site please click here:
geoecomar.ro
Alege limba:

Romana
National Institute for Research and Development on Marine Geology and Geo-ecology – GeoEcoMar


"Mare Nigrum" - Oceanographic multidisciplinary research vessel

Technical characteristics:
Length: 82 m;
Draught: 5 m;
Displacement: 3200 t;
Main propulsion: 2 SKL 8 NVD 48A- 2U from 1160 HP each;
Main power: 2x320 kVA, 1x350 kVA, 1x50 kVA;
Telecommunications: NERA Fleet 55 satellite communication ; Inmarsat C - GMDSS by VHF radiotelephone FM 8500 and facsimile Furuno D Fax;
Navigation systems - Kelvin Hughes 5000 t 6000 A and Nucleus 5000 radar-two units; gyrocompass Vega 2 M; log Furuno DS70; echosounder LAZ50 ; Ninas integrated navigation system.
Laboratories:
Tomography;
Hydrology;
Gase mesurements;
Biology;
Geochemistry;
Geophysics;
Computer room;
Seismo - acoustics;
Photo;
Wet lab.
Personal onboard:
Crew: 25 persons;
Scientists: 25 persons;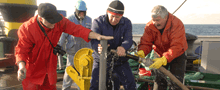 Marine equipments:
Multibeam bathymetric system SEABEAM 1050 Elak Nautik;
Seism - acoustics CHIRP Star Full Spectrum;
Magnetometer Geometrics G-87;
On-board (GMNKM) and bottom (GDK) gravimeters;
ROV (1000 m water deep);
Sub-bottom profiler;
Side Scan sonar.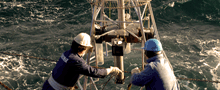 Geochemical, Geoecological and Sedimentological equipments:
CTD SBE 25 Sealogger ;
Gravity and piston corers;
Multi-corer Mark II-400;
Grab samplers;
Nets for biology;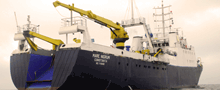 Deck equipments:
Hydraulically Winch 10 tf;
Electrical Winch 8 tf;
CTD Winch;
ROV winch;
Grab sampler winch;
Crane 3 tf/15 m;
A – Frame on aft ship.
©1998-2015. National Institute for Research and Development on Marine Geology and Geo-ecology – GeoEcoMar